Back to Tours
Golden Rock Trekking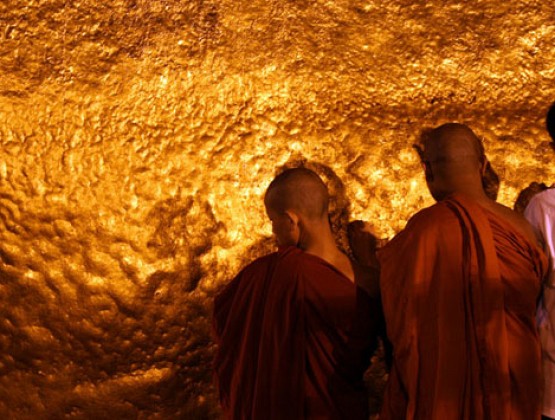 DAY 1 > YANGON - BAGO – KYAIKHTIYO [-/L/D]
Morning pickup from the hotel in Yangon and drive 2hs/99km to THANATPIN, where we take a stroll through a colourful local market. Next, we board a local longtail boat for a ride through rice fields and small MON VILLAGES scattered along the waterway. After lunch at a local restaurant in Bago, we continue 3.3hrs/110km to Kin Pun base camp to change our mode of transport to an open truck. The ride is shared with local pilgrimage makers for the next 11km to Yathetaung base camp, located 500m below the summit ridge. A further, 1hr hike up a partly on steep road and paved trail leads us to the summit. The GOLDEN ROCK, or Kyaiktiyo as the Burmese call it, is a fascinating sacred boulder covered in gold leaf and balanced precariously on the edge of a cliff. Crowning the boulder is a small shrine believed to contain Buddha's hair relics, the source of the gravity defying magic. A continual stream of pilgrims from Myanmar and Asia come to witness the wonder at least once in their life time. Enjoy the tranquil sunset, soak in the unique atmosphere and share in wonder with fellow monk, nun, and lay pilgrims.
*The Royal Treatment *For those who would prefer relaxation the entire way, they can enjoy views from a bamboo sedan chair carried by four local porters. Arrangements can be made by trip guides at the base of the climb. Prices are determined by season, availability and body weight (typical rates run around 20 USD).
Meals included: Lunch, dinnerOvernight stacy: In a hotel near Golden Rock
DAY 2 > KYAIKTIYO – BAGO - YANGON [B/L/-]
Wake up early for lovely sunrise views and a quiet morning stroll. Breakfast at the hotel before descending back to the Kin Pun base camp. We drive 3.5hrs/110km to BAGO, one of richest archeological sites in Myanmar and the ancient capital of Mon Kingdom. We visit the impressive 55m reclining Buddha of SHWE THA LYAUNG and marvel at the 114m high SHWEMAWDAW PAGODA. Taller than even the famous Swedagon of Yangon, the golden spire of the Shwemawdaw is a popular pilgrimage site for Buddhist devotees. After lunch we will visit a MON WEAVING VILLAGE near Bago. The rest of the 1.5hrs/80km drive to Yangon is broken up with visits to a NAT THREE SHRINE dedicated to a legendary nat spirit, the KYAIK PUN PAGODA with its four giant Buddha images, and the ALLIED TROOPS WAR CEMETERY honoring 6,000 war heroes of WWII.
The Golden Rock excursion ends at guests' hotel in Yangon.
Meals included: Breakfast, lunchOvernight stacy: Not included