Back to Tours
Myanmar Highlights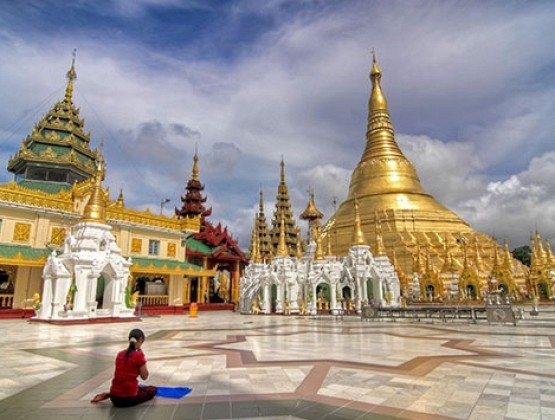 Experience the most famous sights of Myanmar on this guided journey. Your trip starts from British administration constructed capital city, Yangon (Rangoon); where we visit the magnificent gold plate and gemstone decorated Swedagon pagoda; take a stroll through quaint old quarter of Yangon enjoying sights and sounds of this bustling city. Our journey continues northbound to rural Shan State and beautiful Inle Lake region inhabited by minority peoples. By Inle we sample local wineyard harvest; visit markets, floating gardens and cultural highlights on the lake and vicinity. From Shan State we continue our journey to Mandalay for exploring Ancient Capitals of Myanmar (Burma) all situated near current Mandalay City. We visit; the last remaining palace building;
centuries old teak wood monastery; the sacred Mahamuni Buddha's temple; observe traditional gold leaf ponding, carving, tapestry and weaving in local workshops. We explore ruins of AVA kingdom by horse carriage and enjoy Ubein teak bridge vistas known for spectacular sunsets. From Mandalay we continue to Ancient Kingdom of Bagan, the greatest archeological treasure of Myanmar with over 4000 pagodas and temples ruins located on the plains Bagan by Ayeyarwaddy river (Irrawaddy). Bagan was during its heyday one the greatest kingdoms in the World and is truly magical destination to visit.
DAY 1 > ARRIVAL TO YANGON [-/L/D]
Upon arrival to the YANGON airport, you will be welcomed by your Expeditions Myanmar guide and transferred to your hotel. Our journey begins with an afternoon tour through the colonial-style city center of Yangon. We visit the golden SULE PAYA stupa – built over 2,000 years ago and the focal point of numerous historical events in the city –CHAUK THAT GYI pagoda to view its magnificent reclining Buddha, and KARAWEIK HALL to marvel at the uniquely decorated "hamsa-bird-shaped" floating barge on KANDAWGYI (ROYAL) LAKE. We visit BOGYOKE (SCOTTS) MARKET, where hundreds of gemstone, handicrafts, art, clothes and food stores are tucked in a maze of color. We complete the day with a visit to one of the world's most spectacular monuments, the SWEDAGON PAGODA, a gleaming bell dome structure that dominates the city's skyline. Legends state that the sacred hairs of the Buddha are enshrined here. The Shwedagon is an iconic symbol of the country, a sight not to be missed.
Meals included: Lunch, dinner
Overnight stay: In hotel in Yangon
DAY 2 > BAGAN HIGHLIGHTS [B/L/D]
After breakfast, transfer to Yangon domestic airport for a 1hr flight to Nyaung U/ Bagan. We start our journey to Ancient Kingdoms of Bagan with a visit to DHAMAYAZEKA ZEDI for a panoramic view of the temple studded plains of Bagan. We continue to the ARCHEOLOGICAL MUSEUM and magnificent gold gilded SWEZIGON STUPA purported to contain a holy tooth relic of the Buddha. We enjoy the most well preserved mural paintings in Bagan at MYINGABA GU BYAUKGYI TEMPLE. We learn how Bagan's famous lacquerware crafts are produced in MYINGABA VILLAGE. We visit HTILOMINLO temple and learn how Bagan sand paintings are made. We conclude the day's sightseeing with a visit to beautifully symmetric ANANDA TEMPLE with its four standing Buddha images inside. We continue by decorated bullock cart to witness a magical sunset behind the temples (weather permitting).
Lunch in a restaurant by Ayeyarwaddy River. In the evening dine in one of Bagan's best restaurants with puppet show performance.
Meals included: Breakfast, lunch, dinner
Overnight stay: In hotel in Bagan
DAY 3 > MANDALAY CITY IMPRESSIONS [B/L/D]
Morning flight from Bagan to Mandalay. We enjoy a morning stroll through the lively ZEGYO MARKET in the heart of the city to experience more authentic local life in Mandalay. We continue to the ARTISAN QUARTERS, where some of the oldest craftsmanship is showcased dating back to last kingdom of Myanmar. We observe the process of pounding gold leaf, detailing teakwood carvings and embroidering Myanmar tapestry. We also see how bronze and marble Buddha statues are carved, cast and molded. Next, we proceed to the highlights of Mandalay: the sacred MAHAMUNI PAGODA, housing one of the most significant Buddha images in the country, covered in several tons of gold leaf and the crown prize in long past wars between competing Myanmar kingdoms; the GOLDEN PALACE MONASTERY, the only surviving Royal Palace building in Mandalay, offering a glimpse of the original style and architecture of the Myanmar royals; and lastly, the KUTHODAW PAGODA, a compound housing Buddha's teachings carved in the sacred Pali script on stone slabs and regarded as the world's largest book in terms of surface area. We end our day with sunset panoramic views over city skyline on MANDALAY HILL, the highest point of the city.
Meals included: Breakfast, lunch, dinner
Overnight stay: In hotel in Mandalay
DAY 4 > ROYAL KINGDOMS AVA (INWA) – SAGAING – AMARAPURA & UBEIN BRIDGE [B/L/D]
After breakfast at the hotel, we embark on a journey to the Ancient Kingdoms of Myanmar near Mandalay. We transfer 15km to AVA (INWA), the ancient capital of the Shan and Burmese Kingdoms for over four centuries. We cross over the Myint Nge River by ferry and explore the small roads of Ava by horse cart. We visit the BAGAYA TEAK MONASTERY, over three hundred years old yet well preserved and still in use by local monks; the NANMYIN WATCH TOWER, the last standing structure of the Ava dynasty palace compound also known as the "Leaning Tower of Ava"; and the MAHA AUNGMYE BONZAN MONASTERY building with its graceful curves and archways. We continue to the ANCIENT KINGDOM OF SAGAING, located across the mighty Ayeyarwaddy River. From the SAGAING HILLS, we enjoy magnificent views overlooking the river and hill side covered with countless pagodas. We visit a monastery in Sagaing to learn about the life of Buddhist devotees and continue to well-known SILVERSMITH VILLAGE near Sagaing. We continue to another beautiful ancient capital city, AMARAPURA, famous for its weaving and textile industries. There, we visit a cottage industry workshop to learn how Myanmar longyis and traditional fabrics are constructed. We continue to the UBEIN BRIDGE, a simple yet strong teak structure that spans 1,2km over Taungtaman Lake. The bridge silhouetted by the setting sun is one of the most magical experiences in Myanmar and a photographer's dream.
Meals included: Breakfast, lunch, dinner
Overnight stay: In hotel in Mandalay
DAY 5 > INLE LAKE & RED MOUNTAIN ESTATE WINEYARD [B/L/D]
Enjoy breakfast and then transfer to the airport for the FLIGHT TO HEHO, a quiet transit town with one of the few airport links in the beautiful hills of Shan State. Visit the bustling main HEHO MARKET, the meeting point for different ethnic minority groups of the surrounding areas to trade handmade goods and locally grown produce (on market days only). Enroute to Inle Lake, we stop at a LOCAL FAMILY WORK SHOP to learn how Shan umbrellas and paper are made by traditional methods using the fibres of the mulberry tree. Next, we take a 1-hour drive to Inle Lake that descends through the valley with views of the Shan mountains and rice paddy fields. Near Inle Lak, visit the RED MOUNTAIN ESTATE to tour of the lush vineyard situated on the side of mountain, taste some of Myanmar's premiere wines, and observe the different aging methods completed in their cellar cave. After checking into the hotel, we embark on afternoon explorations of INLE LAKE, populated with floating islands and gardens made from the naturally tangled roots of water hyacinth plants and reeds. Delight in the picturesque sights of fishermen who balance and row with one leg, a technique indigenous to the Inn Thar minority group who do this only on Inle Lake.
Meals included: Breakfast, lunch, dinner
Overnight stay: On shore or on Inle Lake
DAY 6 > INLE LAKE [B/L/D]
After breakfast we journey out by boat, following the currents of a small river to reach the INN THEIN PAGODA COMPLEX, a site that makes us feel as if we've stepped through a forgotten portal in time. To access the complex, we walk through verdant bamboo groves that open up to a field covered with the ancient pagodas constructed over 1,000 years ago. We boat back to the lake and visit PHAUNGDAW OO PAGODA, the home of some of the country's most sacred Buddha statues covered in gold leaf by devout followers. We also make a visit to the INPAWKHON WEAVING VILLAGE to learn how local silks, linens and lotus fabrics are handmade and crafted. As an extra treat, we stop at a house for BURMESE CATS built over the lake, where we see the preservation efforts and reintroduction of this rare pure breed of felines to Myanmar. At NAMPAN VILLAGE, local craftsmen show us how Burmese cigars, or "cheroots," are traditionally packed and rolled. We end our day with magnificent sunset canoe ride with boatmen who gracefully navigate and row perched on one leg.
Meals included: Breakfast, lunch, dinner
Overnight stay: On shore or on Inle Lake
Inle Lake Markets
The colorful and bustling morning market is one of the highlights of Inle Lake. Local ethnic minority groups come near and far to trade their goods, and this presents an opportunity to observe people in traditional costumes in an authentic market atmosphere. The market rotates five days a week, each day making its base in a different village (though closed on national holidays). Market visits can be included in any tour program if the market location falls within proximity of our travel itinerary.
DAY 7 > INLE LAKE – YANGON [B/L/D]
The morning is free for sightseeing on the Lake. We can make arrangements for a leisurely stroll to neighboring villages to observe local village life. Alternatively, we can make arrangements for a visit to Nyaung Shwe town to explore the quaint town or shop for local handicrafts. In the afternoon, we transfer to the Heho Airport for the next connecting flight to Yangon. Rest of the day is free at leisure in Yangon.
Meals included: Breakfast, lunch, dinner
Overnight stay: In hotel in Yangon
DAY 8 > DEPARTURE [B/-/-]
Free at leisure until transfer to Yangon airport for your onward flight.
Meals included: Breakfast