Back to Tours
Southern Explorer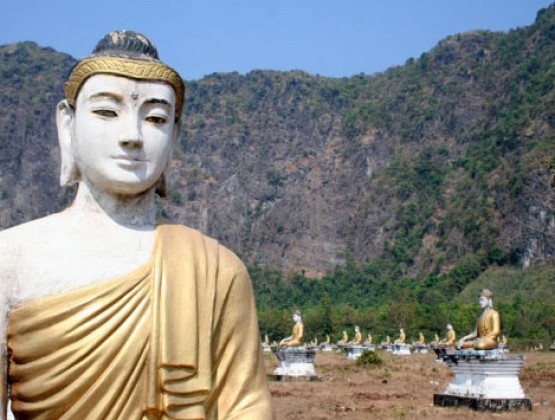 Visit Bago, the ancient capital of the Mon Kingdom. Explore local crafts making, markets and heritage sites of the region, including Shwemawdaw Paya, the tallest Pagoda in Myanmar and Shwethalyaung Paya with its impressive reclining Buddha. Take part in one of Myanmar's holiest pilgrimage sites to the Golden Rock (Kyaikthiyo), a boulder covered in gold leaf that miraculously, delicately balances at the edge of a cliff. During the tour we visit Hpa An, the charming trading capital of Karen State, and Mawlamyine (Moulmein), the first waterfront capital of the British Myanmar colony.
Trip Details
Duration: 5 Days / 4 Nights
Trip type: Cultural tour, adventure
Destinations: Bago, Kyaikhtiyo, Hpa An,Mawlamyine
Departures: Daily on private basis
Starts: in Yangon
Ends: in Yangon
Itinerary
DAY 1: Drive to Golden Rock & visit Bago enroute
DAY 2: Continue to Hpa An. Visit monastery and caves.
DAY 3: Mawlamyine Allied war graves & Death-Railway.
DAY 4: Bilu Island excursion & Mawlamyine sightseeing.
DAY 5: Drive back to Yangon.
Highlights
Historical Bago and its temples and markets
Magical Golden Rock and pilgrims
Karen state capital Hpa An & limestone caves
Death railway and British Burma capital Moulmein
Rural and untouched Bilu island
What's Included
English speaking tour guides (or other at supplement)
Tours & activities as per itinerary
Accommodation with breakfasts
Full board during the trip
DAY 1 > YANGON – BAGO – GOLDEN ROCK ( KYAIKTIYO )
Morning pickup from your hotel in Yangon and drive 1.5hrs/80km to BAGO, one of richest archeological sites in Myanmar and the ancient capital of Mon Kingdom. Enroute, we visit Htauk Kyan's ALLIED TROOPS WAR CEMETERY honoring 6,000 war heroes, a NAT TREE SHRINE dedicated to famous nat spirit at the base of a grand tree, and a COTTAGE INDUSTRY that produces intricate woven bamboo crafts. In Bago we take a stroll through a colourful BAGO MARKET and stop for a cup of tea or coffee in local tea shop, like the locals do. We continue to the impressive 55m reclining Buddha of SHWE THA LYAUNG and the 114m golden spire of the SHWEMAWDAW PAGODA, the tallest in Myanmar. After lunch at a local restaurant in Bago, we continue 3.3hrs/110km to Kin Pun base camp to change our mode of transport to an open truck. The