Back to Tours
Southern Explorer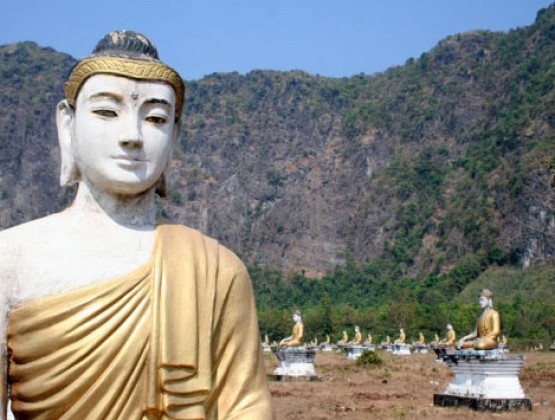 Visit Bago, the ancient capital of the Mon Kingdom. Explore local crafts making, markets and heritage sites of the region, including Shwemawdaw Paya, the tallest Pagoda in Myanmar and Shwethalyaung Paya with its impressive reclining Buddha. Take part in one of Myanmar's holiest pilgrimage sites to the Golden Rock (Kyaikthiyo), a boulder covered in gold leaf that miraculously, delicately balances at the edge of a cliff. During the tour we visit Hpa An, the charming trading capital of Karen State, and Mawlamyine (Moulmein), the first waterfront capital of the British Myanmar colony.
Trip Details
Duration: 5 Days / 4 Nights
Trip type: Cultural tour, adventure
Destinations: Bago, Kyaikhtiyo, Hpa An,Mawlamyine
Departures: Daily on private basis
Starts: in Yangon
Ends: in Yangon
Itinerary
DAY 1: Drive to Golden Rock & visit Bago enroute
DAY 2: Continue to Hpa An. Visit monastery and caves.
DAY 3: Mawlamyine Allied war graves & Death-Railway.
DAY 4: Bilu Island excursion & Mawlamyine sightseeing.
DAY 5: Drive back to Yangon.
Highlights
Historical Bago and its temples and markets
Magical Golden Rock and pilgrims
Karen state capital Hpa An & limestone caves
Death railway and British Burma capital Moulmein
Rural and untouched Bilu island
What's Included
English speaking tour guides (or other at supplement)
Tours & activities as per itinerary
Accommodation with breakfasts
Full board during the trip
DAY 1 > YANGON – BAGO – GOLDEN ROCK ( KYAIKTIYO )
Morning pickup from your hotel in Yangon and drive 1.5hrs/80km to BAGO, one of richest archeological sites in Myanmar and the ancient capital of Mon Kingdom. Enroute, we visit Htauk Kyan's ALLIED TROOPS WAR CEMETERY honoring 6,000 war heroes, a NAT TREE SHRINE dedicated to famous nat spirit at the base of a grand tree, and a COTTAGE INDUSTRY that produces intricate woven bamboo crafts. In Bago we take a stroll through a colourful BAGO MARKET and stop for a cup of tea or coffee in local tea shop, like the locals do. We continue to the impressive 55m reclining Buddha of SHWE THA LYAUNG and the 114m golden spire of the SHWEMAWDAW PAGODA, the tallest in Myanmar. After lunch at a local restaurant in Bago, we continue 3.3hrs/110km to Kin Pun base camp to change our mode of transport to an open truck. The ride is shared with local pilgrimage makers for the next 11km to Yathetaung base camp, located 500m below the summit ridge. A further 1hr hike up a partly on steep road and paved trail leads us to the summit. The GOLDEN ROCK, or Kyaiktiyo as the Burmese call it, is a fascinating sacred boulder covered in gold leaf and balanced precariously on the edge of a cliff. Crowning the boulder is a small shrine believed to contain Buddhas hair relics, the source of the gravity defying magic. A continual stream of pilgrims from Myanmar and Asia come to witness the wonder at least once in their life time. Enjoy the tranquil sunset, soak in the unique atmosphere and share in wonder with fellow monk, nuns, and lay pilgrims.
Meals included: Lunch, dinner
Overnight stay: In a hotel near Golden Rock.
DAY 2 > GOLDEN ROCK - HPA-AN
Wake up early for lovely sunrise views and a quiet morning stroll. Breakfast at the hotel before descending back to the Kinpun base camp. We drive to the quaint Karen State capital of Hpa-An, visiting enroute THATON, one of the ancient Mon kingdoms, and the THAMANYA MONASTERY, the home of one of Myanmar's most revered monks. After lunch at local restaurant, we continue with visits to: the picturesque KYAUK KALAT, a standalone rock islet in the middle of a small lake; the LUMBINI GARDEN, a park housing one thousand Buddha images with the majestic Mount Zwekabin as its backdrop; and the SADDAR CAVE, the most impressive limestone cave in the region, passing through an entire limestone mountain range and opening up to small lake and fields. The cave also displays fascinating rock formations inside. We arrive Hpa An late afternoon. Time permitting, we enjoy the sunset at SHWEYINMYAW PAGODA at the bank of Thanlwin (Salween) River.
Meals included: Breakfast, lunch, dinner
Overnight stay: In a hotel near Hpa-An.
DAY 3 > HPA-AN - MAWLAMYINE (MOULMEIN)
After breakfast, we take a stroll through the CENTRAL MARKET to get the feel for Hpa An local life, then visit the KAYIN CULTURAL MUSEUM, which exhibits the social, literary, musical and cultural heritage of the Karen (Kayin) ethnic peoples. Continuing on another 1hr drive, we reach MAWLAMYINE (Moulmein), the 4th largest city of Myanmar
as well as 1st capital of British Burma, boasting of intact colonial era buildings. In the afternoon, we make an excursion 64km south of the city to THANBYUZAYAT, the westernmost terminus station of the infamous Burmese-Siam "Death Railway" built by prisoners of war during WWII. We visit the MON STATE CULTURAL MUSEUM with its displays of bronze, silverware, ceramics and sculptures; the THANBYUZAYAT WAR MEMORIAL that honors the Allied Troops of British, American, Australian and Dutch from the war; and a DEATH RAILWAY MUSEUM with a small locomotive of bygone days to commemorate the start point of the tragic railway. If time permits, we learn about hand woven textiles at a WEAVING WORKSHOP on the way back to Mawlamyine.
Meals included: Breakfast, lunch, dinner
Overnight stay: In a hotel in Mawlamyine.
DAY 4 > MAWLAMYINE – BILU ISLAND
We explore Myanmar authentic rural life by catching a 1,5hr ferry ride to BILU ISLAND, a pleasant town that has been largely untouched by development. Touring by local pickup truck, we pass through idyllic rice paddy fields, rustic villages and palm lined roads. A visit to COTTAGE INDUSTRY WORKSHOPS allows us to learn about the how local crafts such as walking sticks, wooden pipes and pens are made. In the afternoon, we return to Mawlamyine and enjoy a TRISHAW RIDE, or bicycle taxi, to visit the city's highlights. The day ends with a sunset from the KYAIKTHANLAN PAGODA, immortalized in Rudyard Kipling's poem that begins: "By the old Moulmein Pagoda, lookin' lazy at the sea/ There's a Burma girl a-settin', and I know she thinks o' me…".
Meals included: Breakfast, lunch, dinner
Overnight stay: In a hotel in Mawlamyine.
DAY 5 > MAWLAMYINE – YANGON
After an early breakfast at hotel, we drive 7.5hrs/300km to Yangon. Near Kyaikhto, we stop for lunch at local restaurant. If time permits, we visit MON WEAVING WORKSHOP enroute to Bago, with arrival to Yangon by the late afternoon.
Meals included: Breakfast, lunch, dinner
Overnight stay: Not included.